New ProjectHut Website and Plans Launched!
August 12th, 2013 by
Scott McNab
After many months of planning, design and implementation we are proud to unveil the brand new ProjectHut website!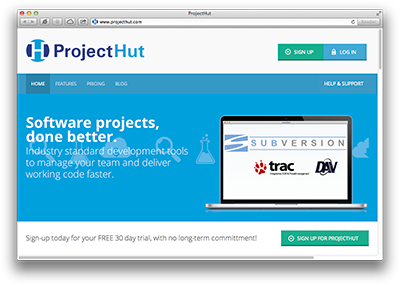 Gone is the old fixed-width website that has served us so well for the past six years – the new ProjectHut website has been completely redesigned from scratch to feature the latest in modern, mobile-ready responsive web design. The new layout will adapt dynamically to best fit the size of your browser, making the site easier to read on all mobile devices, tablets and conventional desktop browsers.
With the new look comes an improved layout and content to make it easier to understand the features and benefits of using ProjectHut for your projects. The Knowledgebase section has been revised and improved, and a completely new Software and Resources section added that contains instructions on where to find Subversion client software or IDE plugins for your Mac, Windows or Linux based development environment. Existing customers will also notice that the ProjectHut Member Center also has a new look with better integration with the main website.
Brand new plans with fantastic value!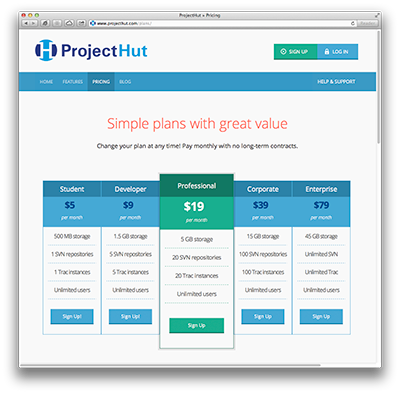 Coinciding with the launch of the new website, we are also excited to announce a set of brand new ProjectHut Plans! All our plans now offer vastly increased storage quotas at significantly lower prices.
For example, our old Developer plan only offered 200MB storage space for $9.95, but the new Developer plan features a massive 1.5GB storage for only a low $9 per month!
In addition, we have also added brand new Corporate (15GB) and Enterprise (45GB) plans that offer much greater storage capacities for customers who have outgrown our previous packages.
Of course, all our plans continue to offer unlimited users and groups. Make sure to check out the new ProjectHut Pricing and Plans page for more details!
Free trial now available!
We are now offering customers who sign-up to ProjectHut for the first time the opportunity to try ProjectHut free of charge! Yes, for the first time ever, we are waiving charges for the first month's service. You do not even need to enter any payment details when signing up!
If you have ever considered trying out our service but been unsure about what to expect, then now is the chance to try the full ProjectHut service completely free of charge! There is no obligation to continue beyond the trial period, so should you decide it is not for you at any time simply let us know and we will close the account. Of course, we do very much hope that you will decide to stay, and if so you will only be required to make a payment starting from the second month of service.
So, with nothing to lose and everything to gain, Sign Up Now to start using ProjectHut today!